Working at a destination winery in Healdsburg, we field many questions from visitors who are trying to plan the ultimate wine country vacation. We try our best to offer tips and advice that will make their Sonoma wine tasting and dining adventures as memorable as possible. By far, the most asked question we receive at Jordan Winery is what to wear to a wine tasting. Here, I've compiled a list of the top frequently asked traveler questions with answers from the Jordan hospitality, many of whom have lived and worked in Sonoma wine country their entire lives. We dug a little deeper into the fashion questions and included photo galleries, as the "wine country casual" fashion is better explained through photos.
What to Wear to a Wine Tasting
Wondering what to wear wine tasting? Before you raid your closet, make sure you know what your wine tasting entails. If you're just popping into tasting rooms around the town of Healdsburg, Sonoma, Yountville or Napa, you want to be comfortable but cute and fashionable (see "What is Wine Country Casual? below). For ladies, you can wear a sundress, dressy jeans and a cute top, or a casual skirt and cute top. Recommended shoes include wedge sandals, flat dress shoes or stylish boots. (See below gallery for photos.) If you're going to a winery where walking through the vineyard is part of the experience—which is becoming more common, especially in Sonoma County—leave the stillettos at home and wear flat, close-toed shoes. Depending how hot it is outside, jeans may even be more appropriate for a vineyard tasting. Daily temperatures fluctuate significantly in wine country—that's why the wine grapes are so delicious—so it's always a good idea to bring a sweater or light jacket with you to morning tastings and dinner. And don't forget–wearing white to a wine tasting is daring because red wine spills do happen.
What to Wear to a Wine Tasting: Women's Fashion Photos
Below are some examples of typical clothes women wear to a wine tasting. Some wineries are more formal with seated tastings, like Jordan Winery, while others are more casual, such as Gundlach Bundschu, which has outdoor concerts and vineyard tours in a vintage military vehicle. Be sure to dress accordingly based upon the tasting description.
What to Wear to a Wine Tasting: Men's Fashion Photos
Find fashion inspiration in the photos below of stylish men at Jordan Winery events and wine tastings. For outdoor lunches and vineyard tastings, you'll see that guys definitely wear shorts, but they are typically dressy shorts with a collared shirt—or dressy pants/jeans with a collared shirt. Casual dress shoes or stylish sneakers work.
What is Wine Country Casual Attire?
Wine country casual is a very vague term that frustrates some and inspires others to create their own definition of wine country fashion. For women, wine country casual means sundresses or a cute dress top and dress shorts or capris. Fancy jeans can even work. Shoes can range from boots and sandals to flats and stylish sneakers. For men, that means a short-sleeved dress shirt, golf shirt or designer tee shirt with dress shorts, casual pants or dressy jeans. Casual dress shoes or stylish sneakers. During the evening, if you're going to a fancy restaurant like French Laundry or SingleThread, ladies will probably want to wear a dress or dress slacks (and jackets without a tie for men), but you could easily wear jeans and a nice top (don't forget the light sweater or jacket) to Barndiva, Valette, Chalkboard or Spoonbar in Healdsburg.
What wine country casual is not: gym shorts, cut-off Jean shorts, or sports t-shirts. If you're going to brewery for dinner, feel free to don those duds. High heels—regardless of how fabulous they look— are iffy. Feel free to pack those kicks if you're only walking from the Uber to your table at the restaurant.
People do, however, tend to dress up a little more than wine country casual at night if they're going to dinner at a white-tablecloth restaurant like Dry Creek Kitchen or Farmhouse Inn, but for most places, the same style of wine country casual works for day or night—just don't forget the sweater or jacket.
The slideshow above shows our favorite wine country casual attire from events and tastings at the winery. View the gallery at the end of this post for Instagrammers who know how to pull off the wine country casual look.
Should We Tip a Wine Tasting Host?
Visiting a winery sometimes feels like visiting a restaurant or a wine bar, so it's natural that visitors feel as if they should be tipping their wine tasting host. In general, tipping a wine tasting host is appreciated but not expected. At Jordan, you may add a tip onto payments made with credit cards. Tips are shared among our team members.
Do We Need Reservations for Wine Tasting?
"Do all wineries require reservations?" This is a question we receive quite often at Jordan Winery, as all of our tours and tastings include food pairings and are by appointment with advance reservations required. Many wineries do require reservations due to food preparation, staffing, use permits and overall philosophy. A traditional tasting room typically doesn't require an advance reservation for a tasting at the bar, but it's always best to check the winery website to confirm before showing up. As a general rule, most of the best winery tours in Napa and Sonoma require a reservation because they are experiences that include food, different destinations on the winery property, or both.
How Far in Advance Should We Book a Wine Tasting?
Wineries in Napa and Sonoma vary dramatically in size and capacity for guests as part of wine tasting experiences that require advance reservations. In our experience, visitors should book winery tours and tastings for holiday weekends 3-4 months in advance. If you're traveling to wine country during harvest (September and October), make a reservation 6-8 weeks before for weekday wine tasting experiences and 2-3 months for non-holiday weekends during harvest. During winter, you can typically book a top-rated wine tasting in Sonoma County 1-2 weeks in advance for weekends, and even a few days in advance for weekdays. During spring and summer months, from April to August, make wine tasting reservations 4-6 weeks in advance for weekends, and at least 1-2 weeks in advance for weekdays.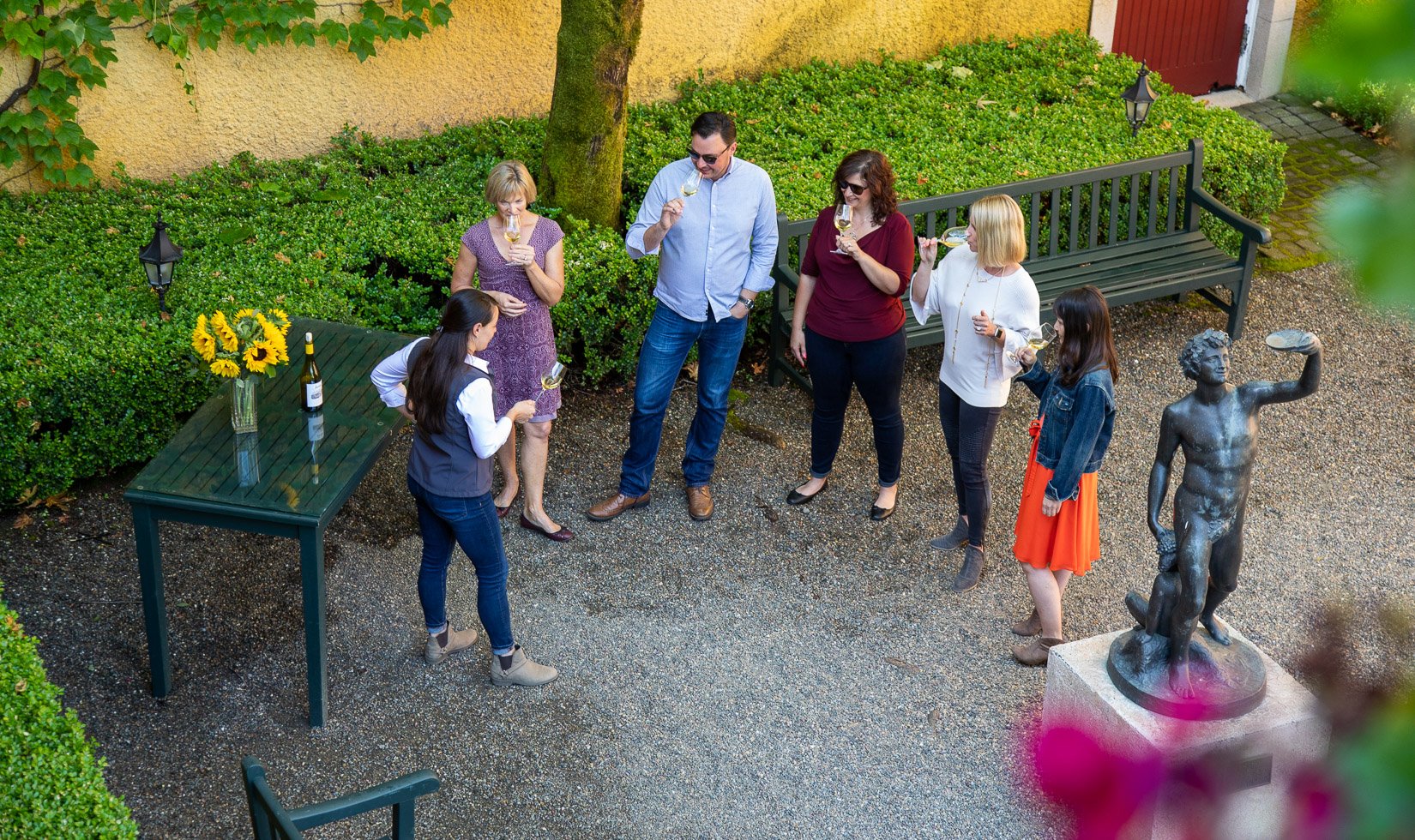 Are Most Wine Tastings Private or Groups?
Whether or not you'll be wine tasting alone or with strangers varies from winery to winery. Winery tours are often done in groups, and tasting rooms offer bar service where you're elbow-to-elbow with another group and one host offers pours as guests arrive. At Jordan Winery, all tours and tastings with food pairings that can be booked on the website are group wine tastings. In order to have a private wine tasting at Jordan, you have to become a Silver member of the Jordan Estate Rewards loyalty program. On the other hand, at MacRostie Winery, the Estate House is designed like a living room with several private tables so that wine tasting guests each have their own table. It's best to ask the winery if you're looking for a private experience. Many wineries also offer the option of booking out a group tasting and turning it into a private, which is popular with the award-winning Jordan Estate Tour & Tasting excursion.
Can We Drive from Healdsburg to Yountville for Dinner?
The short answer is yes, but it's not a cakewalk of a drive, especially after a fancy meal. Napa Valley's southern town of Yountville—located about 70 minutes southeast of Healdsburg—is known for its restaurants and is home to the famous French Laundry. The hip town of Healdsburg in northern Sonoma County has become increasingly known for its restaurants, hotels and inns—not just its beautiful wineries in the surrounding Alexander, Russian River and Dry Creek valleys—and many travelers choose to stay overnight in Healdsburg but have dinner reservations at The French Laundry or another Yountville restaurant. Be mindful that you'll more than likely be spending more than two hours in a car round-trip, crossing a mountain range to get to and from dinner. An Uber from Healdsburg to Yountville one-way will cost about $100. If your hotel is in Healdsburg, I'd suggest opting for nearby Michelin-star restaurants, including SingleThread Farm Restaurant & Inn, Madrona Manor and Farmhouse Inn & Restaurant.
Find more wine country travel tips on our Wine Country Table blog.
Bonus: Our Favorite Wine Country Casual Attire from Instagrammers