California vineyards rely on winter rains to fill water reservoirs and replenish the underground water table. Reservoirs, such as lakes and ponds, are used for irrigation during dry summer months when the grapevines are growing, and the deep roots of grapevines need ample water to seep below ground and help feed the vines when they awaken from winter sleep during bud break. After many years of historic drought conditions, Napa and Sonoma wine country have experienced very wet winters and major flooding. This blog summarizes how flooding impacts vineyards and how recent winter storms affected the drought.

Does flooding harm grapevines?
Most of the annual rainfall in California comes during winter, when vineyards are dormant. During this phase of the grapevine's annual cycle, the rain has no effect on the plant. Vitis vinifera, the types of European grapevines planted throughout California, can tolerate flooding and cold temperatures, to a degree. The vines can have "wet feet" for about 20 days of straight rain without any issues, and we only received a week's worth. Because Sonoma County winters are mild, temperatures also rarely fall below 30 degrees, and these types of grapevines can handle temperatures down to 5 degrees Fahrenheit before the cold potentially damages the wood trunk of the plant. A bigger concern is erosion of hillsides and fallen trees, which can destroy a vineyard or impact our staff's ability to get back into the vineyard to do the most laborious, important work each winter—pruning.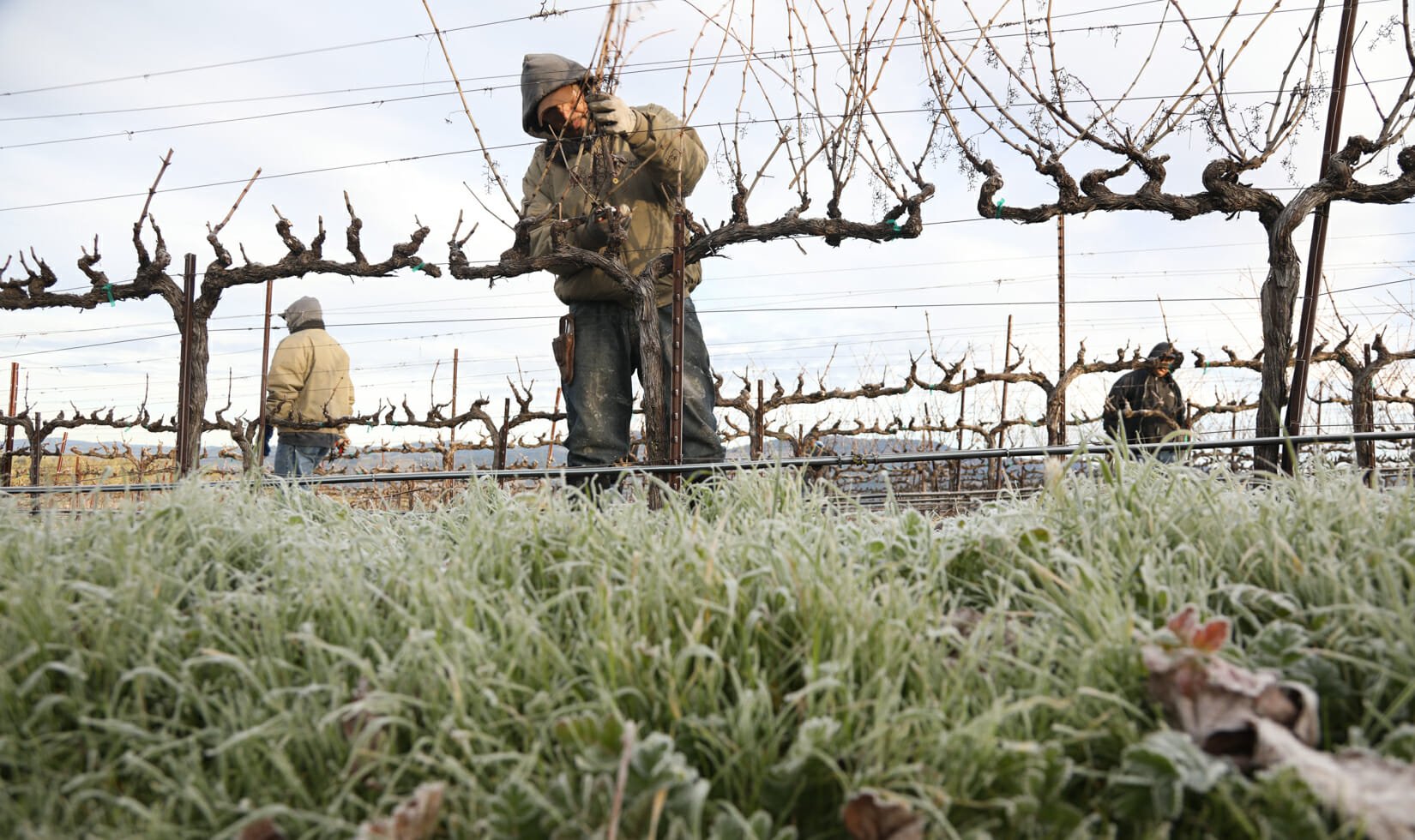 How flooding affects grapevine pruning
It takes our crew of five employees about three months to hand-prune each grapevine, removing almost 90 percent of its canes from the previous year. Grapevine pruning is a race against the clock. It's a critical step for setting the balance of the crop, and it can only be done by hand. Precision is involved, and that means moving slow, as demonstrated in this pruning video. Machines can be used to cut the top of the cane off, saving workers time and decreasing the possibility of shoulder injuries (see blog post about our pruning experiment), but a skilled vineyard worker must examine each vine and make decisions on which canes to cut, whittling each vine down to a two-bud spur, which should produce four grape clusters that growing season (two clusters per bud). Mother Nature wasn't on our side in recent years. In 2017, we had to begin winter pruning on mornings where temperatures dipped just below freezing, and then the rain delay began. In 2019, when the ground was too wet to prune grapevines, we focused on erosion control and other pre-storm measures to protect our creeks from soil run-off. All pruning must be completed prior to bud break, which typically begins in March. When heavy rain continues well into February, as it did in 2017 and 2019, the weather puts us 2-3 weeks behind schedule for Jordan Estate pruning in Alexander Valley and also at the grower Chardonnay vineyards in Russian River Valley.
What causes major flooding in Wine Country
The main cause of heavy winter rainfall that leads to flooding throughout California is a climatic event called an atmospheric river, aka the Pineapple Express. The series of storms gets its name from the Hawaiian Islands, where moisture pressure builds as it moves east and then gets dumped on the West Coast.   
After a week-long atmospheric river wave dropped up to 20 inches of rain and 12 feet of snow in January 2017, Northern California's drought was declared officially over. According to the federal government's U.S. Drought Monitor, the 2017 atmospheric river, coupled with significant rainfall in fall of 2016, pushed Sonoma and surrounding counties into a drought-free zone for the first time since 2012. A Washington Post report said 35 percent of California emerged from drought, a big jump from the previous 19 percent. In 2016, the entire state had some sort of drought designation. As vineyard owners prepared to enter the sixth year of a historic drought, the rain began to fall in late October. It seemed as if Healdsburg had more rainy days than sunny ones; most cities in the Bay Area saw more than double their annual precipitation in the fall of 2016. When the Russian River crested in January 2017 around 38 feet, that was its highest mark since 2006, when it topped 42 feet during storms on New Year's Eve of 2005 that continued well into the new year—the most damaging floods in recent memory. The ground had plenty of water for vegetative growth, which fueled the fall 2017 fires, sadly.
The Pineapple Express came roaring back in 2019. The Russian River flooded in several areas around Valentine's Day–including where the river bends and turns north near Jordan Estate. About 10-12 inches of rain fell around Healdsburg over three days. Alexander Valley Road was closed at the bridge east of Jordan Winery, which created a lot of headaches for tour guests and delivery drivers. Less than two weeks later, another atmospheric river hit Sonoma County, causing the Russian River to swell to 45 feet before cresting. The winery driveway at the bottom of the hill flooded for the first time since 1997, but the waters receded within a few hours. The cities of Sebastopol and Guerneville in western Sonoma County were the hardest hit.
The good news? Drought is no longer a constant concern, reservoirs are full and the vineyards have ample moisture down to their roots, all of which bodes well for the next vintage.
Learn more about recent Sonoma County floods:
USA Today: California flooding
CNN: Pineapple Express drenches California with rain, snow and flooding
Washington Post: The drought is over in Northern California
Mercury News: California drought: Is October rain making a difference?